Project: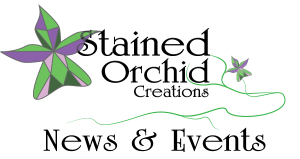 Stained Orchid Creations a new stained glass company, a business side to the creative endeavor my father started years ago. Logo design, Website design, and retooling. Originally the site was set up as a cart-based sales kiosk for stained glass art. The site is in the process of being migrated to a portfolio site for the same artist. we also created a banner for use at craft shows.
Challenges:
Anytime you are starting to craft an identity for a company that is just starting out the number of possibilities can be daunting. When we first took this job in the name of the company hadn't even been decided. Add to that the medium that this logo needed to invoke is a transparent surface that holds value by capturing and refracting light and pictures. I knew as I started working on the project that transparency was going to be a key ingredient. Not only does the logo overlap the word-mark to give a sense of that layering, but the logo itself is used in different transparencies throughout the brand.
The shape of the logo is a dendrobium orchid.  The structure of the glass panes was set to mimic the curve of the petals and actually be possible to create in stained glass.
Outcome:
The original design was met with a lot of excitement. However, the work of managing a storefront with the wide assortment of custom pieces both large and small was a bit much. There were two options after the excitement of the initial rollout. One option was to dedicate significant time constantly updating a catalog. The second option was to retool the site as an in-depth portfolio and resource for stained glass enthusiasts. In short, the proposed business model changed for the site, so it is currently being redesigned.